Our Services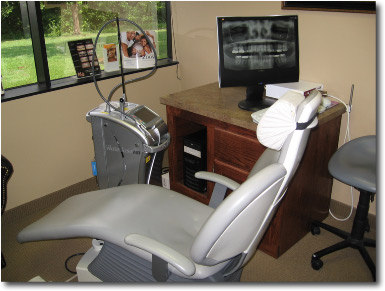 Dr. Robinson has always maintained the most current technology available. Some of the latest trends in dental technology include digital radiography, laser dentistry, and in-office advanced power whitening.
With the use of digital radiography, Dr. Robinson can view films instantly, reducing patient's time in the dental chair. Every operatory is equipped with chairside computer, allowing our patients to view x-rays and photos as the doctor discussed the treatment options.
The laser allows Dr. Robinson to perform many dental procedures without the need for anesthetic injections. Other benefits include greater precision, faster healing, decreased sensitivity and less noise than traditional dental drills.
We offer the most up-to-date whitening options available. Your whitening process is usually complete in just a couple of hours.
Patient comfort is very important to us. We have laughing gas available for all procedures.
For more information on our products and service see our links page.